ClashFarmer 1.8.18 works with Clash Of Clans December 2017 Update!
Enjoy all the advantages of the safest, most advanced & free Clash of Clans Bot!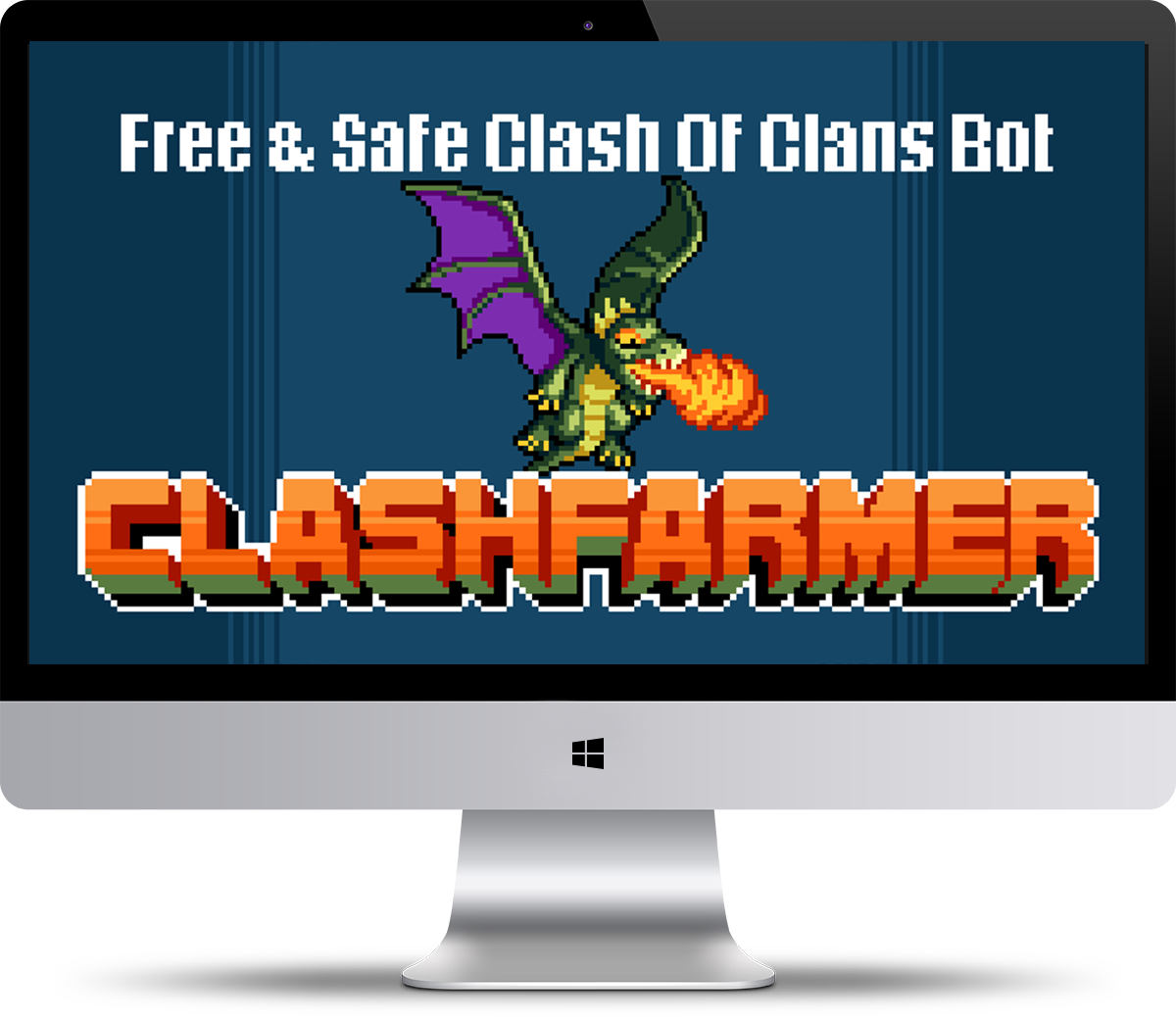 MOST PROFESSIONAL BOTTING TOOL FOR
CLASH OF CLANS

:
Safe
Clashfarmer bot is the safest bot available, as it is the only Clash of Clans Bot that comes with Anti-ban technology. While other bots that are available on the web might give you a competitive advantage for a short time, if they do not have Anti-ban technology, your account will eventually be banned. Clashfarmer will keep this from happening.
Free
Clashfarmer bot is absolutely free and it will forever be available for anyone who wants to use it. Clashfarmer also updates frequently in order to stay ahead of COC game updates, and it is the most professional Clash of Clans bot ever programmed.
Easy to use
This Clash Bot is incredibly easy to use and has a simple installation process. It runs on your computer and utilizes the capabilities of MEmu or BlueStacks (android emulators). It also has the best background mode so that you can minimize the bot and android emulator windows and running other games simultaneously.
It takes just a few minutes to start using
ClashFarmer
Check out our very simple 3 steps tutorial. ClashFarmer is the only COC bot that doesn't require to register in any forum.
Complete Tutorial
The complete Clash of Clans bot
With the rise in popularity of Clash of Clans game, there are more and more people looking for a COC Bot that can provide them with the most resources (gold, elixir and dark elixir) in order to give them a competitive edge over other players. Luckily, the best Clash of Clans Bot available on the internet has arrived, and it is Clashfarmer.

Clashfarmer is the only Clash of Clans bot that was designed with Anti-ban technology, thus making it the safest and most useful bot available for this popular mobile game. While other bots and hacks will likely get players banned, this particular auto bot will keep its users safe. Not only that, but it is also the simplest bot to install and use, meaning that players do not have to go through any complicated technical steps — anyone can just download, install and play.

Performance, of course, is one of the best aspects of Clashfarmer. Users of Clashfarmer can generate up to 20 million in gold and elixir every single day, which means that they will never run out of the resources they need in order to upgrade their armies and buildings. Furthermore, the bot has various settings that the user can customize, keeping the game as new and exciting as possible.

Although there are a number of different hacks for Clash of Clans available online, all of the features, particularly the Anti-ban technology, makes Clashfarmer the very best of the best, hands down. And the best part is the fact that it's absolutely free!
Features:
Automatic farming
Deploy near the red lines with very high accuracy
Exclusive 2 fingers deployment
Customized wave deployment
Customized order of troop types in battle
Automatic wall upgrade
Search by Townhall level
Automatic Troop Donating & Requesting
Donate by Keywords
Global chat advertising and customizable settings
Customized option to activate hero abilities after X seconds.
Auto collect resources
Auto clear tombstones
Auto collect loot cart
Auto reconnect
Search only mode
Maintain the village mode
Option to configure time-out hours
Advanced end battle settings
Option to remotely control the bot via PushBullet
Getting started farming with
ClashFarmer

is very easy.

The only requirements are
WINDOWS PC
We support Windows 7, 8, 8.1, 10
CLASH OF CLANS ACCOUNT
Android or iOS account.
TRY IT NOW
ClashFarmer Reviews
Here are some of our chiefs reviews about Clash of Clans Bot:
I love your bot! It helped me to keep up while I'm at work. It's really professional so you guys deserve a big thank you.

EranspUser

Best bot by far out there. Can't wait until the paid version comes out to see all the awesome features. Thanks for all your hard work! :)

LazerCloudGamingUser

I just wanted to thank you for this awesome bot, it's surprising how fine it works, thanks to you I came back to play this game without losing my time farming millions of resources. Also, congratulations on your anti detection system, me and 3 friends of mine are using it almost every day!

KekeiroUser

I used almost all bots of Clash of Clans, but Clashfarmer is easy to use and it's performance is better than the other bots.

ShooyaabUser

Thank you for being patient whenever CoC updates the game & making instant solutions to the bot.. Thank you very much. Keep it up & God bless to the team. :)

ThejackaLUser

Thank you Clashfarmer! You people rock! After the big COC update of 2016, I was about to leave COC when you came into my life. First, I couldn't live without COC, but now I can't live without Clashfarmer. :)

CarnageUser

I very appreciated for your efforts on COC bot, it helped me a lot for my gaming, since i very busy and cant play the game all the time, you helped me saved a lot of time. I want to thanks you so much for that. Clashfarmer is great!

Yuredacy2311User

Why should I say that you guys are good? You guys are just the best! :)

PatrickUser

Hi Clashfarmer team,
You guys always have an instant solutions to our problems like fixing bugs, upgrading the detection evasio, etc. Clashfarmer is the best! Keep up the great work, many fans are believing in you guys.
More power CF!

Shotgun12User

Without ClashFarmer no COC. Big thanks to ClashFarmer team! COC is much more enjoyable. Rock in roll to the world!

Whamy22User

Guys your the best!! You give us always your support and instant solution.. I very happy of you sofware update!! Keep up the great work and GOD bless to your team!!!

razor6787User

The best COC farming bot - happy to support you guys and gals. If TH9 is anything like 8, I will be using Clash Farmer more than ever!

DoubleonUser