Clash of Clans December 2018 Update – New Troop, Siege Machine, Spell & More!
December is going to be a busy month for Clash of Clan players. Players are racing towards finishing up the latest addition of Clan Games, while preparing their base for the third installment of the Clan War League. Then SuperCell delivered the holiday presents early, with their December 2018 update bringing a new troop, new dark spell, a third siege machine, magic items and making a ton of other changes to the game. Here's a breakdown of the update, as well as some thoughts on how best to prioritize and use these changes.
New Siege Machine
Siege Machines have dramatically adjusted gameplay for Town Halls 10, 11 and 12. However, we knew that the initial two machines were only the start. The Wall Wrecker has been the more dominated of the two, helping tank troops towards the Town Hall. However, as bases shift Town Halls away from the center and the lack of use for the Battle Blimp meant air needed more siege options.
The Stone Slammer targets defensive buildings dropping massive boulders with a splash damage effect. Players will have to upgrade their Siege Workshop to level 3 to get the Stone Slammer, but it will be far more useful than the Battle Blimp. At max level (3) the machine causes 600 damage per second and has nearly 7,000 hit points. The Slammer will be great for target either the Eagle Artillery or an Inferno that is hidden behind multiple layers of walls.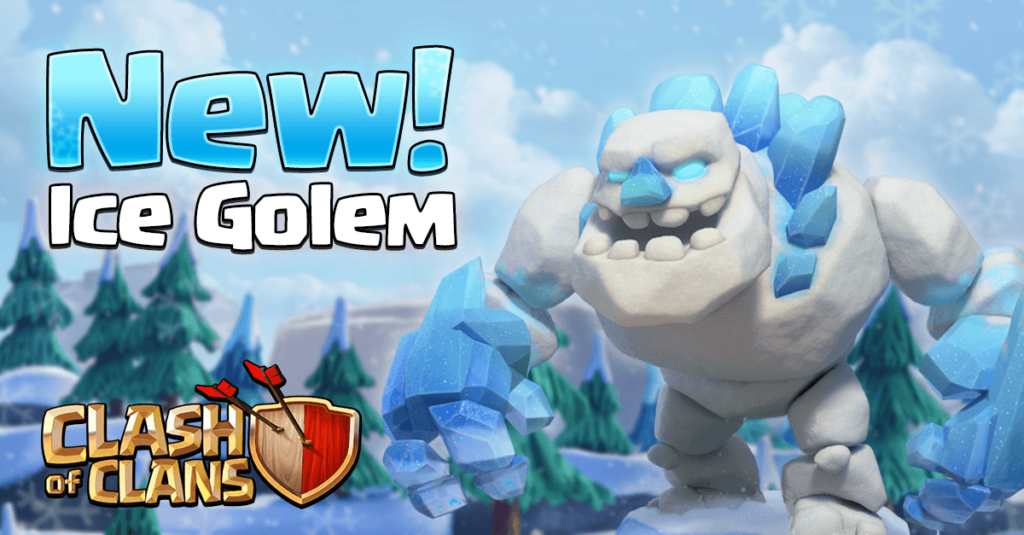 The Ice Golem
The second new troop added to the game this year, following the Electro Dragon, the Ice Golem unlocks with a level 8 Dark Barracks. He combines the tanking ability of a traditional Golem with the freeze ability from the Ice Wizard (special holiday troop in years past). As the Ice Golem attacks defensive buildings, he freezes them slowing their attack. Additionally, as he is destroyed he leaves a freeze over the surrounding area. The Ice Golem will start with 4 level initially, deliver 36 damage per second, carry 3,200 hit points, and leave a 6.25 second freeze on the buildings around him when destroyed.
A New Dark Spell
A fifth dark elixir spell is being brought into the game, the Bat Spell. Taken from the Night Witch on Builder Base this spell summons an army of bats to distract enemy defenses. There are five levels in total for the Bat Spell. At maximum strength it produces 27 bats. T
he bats come out in pairs or single, not all 27 at once, creating a slow distraction for defenses such as the Archer Tower, Air Defense or Single Targeting Inferno. The bats will not trigger air bombs or mines but do directly target defenses first. Save your next Book of Building for the Dark Spell Factory upgrade, to avoid being without your dark spells for 7.5 days.
Builder Base Changes:
No major content adjustments for the Builder Base this time around but look for Builder Hall 9 in the first half of 2019. Here are a few key things the dev team changed to balance gameplay.
The Cannon Cart gets a 15% reduction in damage but unlocks a third cannon unlocks at level 10 now.
Troop upgrade times are being decreased.
The Super PEKKA loses 5% hit points while the Baby Dragon gains 7.5% hit points.
Magic Items
Two new magical items are available for purchase from the Daily Discounts screen or in future Clan Games.
Shovel of Obstacles – Allows players to move special holiday obstacles on their base.
Hero Potion – Will instantly boost any hero by 5 levels for an hour (not past the max for your Town Hall though)
Misc. Changes
Here is a quick rundown of some of the remaining, smaller changes from the December 2018 update.
Players can buy with gems additional spaces to create up to six different war base designs.
Once a battle has begun but before and troops have been placed, you can now change your selection for the Siege Machine/Clan Castle Troops and the Grand Warden's air/ground setting.
If you play on a tablet, you can now enable a 2-row display for your troops, spells, heroes, and siege machine, rather than one long menu to scroll across.
For a December update this is a lot of content. If you are a Town Hall 12 I'd prioritize the Stone Slammer first, while letting Town Hall 11 clan mates unlock the Ice Golem first. Good luck in the upcoming Clan War League and look for the traditional 1-gem specials to continue into early January.
To receive updates on new versions releases and stay connected with other members of Clashfarmer community,
Join our FORUM