Major Clash of Clans Update – April 2019
Major Clash of Clans Update Arriving in April 2019
Over the past few months Clash of Clan players have been treated to balancing changes, quality of life updates, numerous reward challenges, and the announcement of the first official Clash World Championships. But the dev team hasn't been basking the glow of the game's introduction into the world of eSports. A massive update is scheduled for April. Here is what we know so far, what else might be included, and when we might see the update:
Costs & Build Times Dramatically Reduced!
A main goal for the Clash team is to have as many players as possible playing close to the end game, or top level. At this point in the game's evolution that means Town Halls 10 through 12 – the siege machines, electro dragons, and the majority of the top tiers in CWL. However, it takes a long time to upgrade to Town Hall 10, especially getting the heroes at Town Hall 9 up to level 30 each.
The April update changes how fast newer players can speed through the lower levels with major reductions in the time it takes to upgrade buildings and how much armies cost, allowing you to save more resources and raid enemy villages faster. Almost everything is getting a reduction, but here are the specifics:
Troops:
Baby Dragon
Balloon (the 1st through 3rd level)
Bowler (cost on the 3rd and 4th level)
Dragon
Electro Dragon
Golem
Healer (costs reduced at level 5)
Hog Rider
Minion
E.K.K.A
Valkyrie
Wall Breaker
Witch
Wizard
Spells
Here are the defensive buildings that will not only cost less to upgrade, but will soon upgrade quicker:
Air Defense
Air Sweeper
Archer Tower
Army Camps
Barracks
Bomb Tower
Cannon
Clan Castle
Dark Barracks
Dark Elixir Pump & Storage
Eagle Artillery (just the upgrade time)
Elixir Pump & Storage
Gold Mine & Storage
Hidden Tesla
Inferno Tower
Laboratory
Siege Workshop (just the update time)
Spell Factory
Town Hall
Wizard Tower
X-Bow
Another major time constraint in the game is how long it takes to upgrade troops in the Laboratory, especially given that you have to do them one at a time. 16 troops and 5 spells will not take less time to upgrade. Getting you to a max army quicker and ready to test out new attack strategies. Here is a list of the troops and spells seeing reductions:
Archer
Baby Dragon
Balloon
Barbarian
Bowler
Dragon
Giant
Goblin
Healer
Healing Spell
Hog Rider
Jump Spell
Lightning Spell
Minion
E.K.K.A
Rage Spell
Valkyrie
Wall Breaker
Witch (level 2 and 3 upgrade costs have also been reduced)
Wizard
Get ready to max your Town Hall level and push on to the next. Or if you are nearing a max Town Hall 12, April might be the time to start up a second account.

Bigger Clan War Leagues!
CWL has been a great success thus far, adding an exciting new game mode and improving clan wars. However, with only 15 spots per team, it is very limiting on participation and leaves many clan members sitting idle for a week. In the April update the game will introduce a new 30 vs. 30 CWL option. Your clan will have to be at least in the Bronze III tier (or higher) in order to select the 30v30 option. At the start of the sign-up process you'll have to pick one war size and stick to that for the entire CWL.
Additionally, CWL medals, which are used to buy exciting new rewards such as the new Hammers, will be based not only on where your clan finishes in your CWL clan ranking, but also your individual stars. Players will get 100% of their CWL medals as long as they earn at least 8 starts during the CWL cycle.
What else could be included in the Clash of Clans April 2019 Update?
While a new troop or spell is still very possible for the home village, the most likely addition to the next update is Builder Hall 9. It's been over a year now since Builder Hall 8 was released (March 5th, 2018), and a lot of clashers have fully maxed out their Builder Base – even with those expensive walls. Builder Hall 9, along with a new troop and a new top-level defense, are almost certainly set to arrive in April.
When will the update arrive?
The next round of Clan War Leagues kicking off at the start of April, running for just more than a week. The April update arrive in mid-month giving players a chance to adjust to the changes prior to the next CWL.
[April 2nd 2019]
Clash of Clans – April 2019 Update
The Clash of Clans April 2019 update has finally arrived and with it comes major changes to the CWL, game challenges, troop levels and defenses. Let's dive into each key part of the update.
CWL
The introduction of CWL was a seen as a positive movement from both the general war community and those looking for Clash to move towards the eSports world. However, with only 15 spots each war, it left a lot of players on the outside watching for a week. Now clans can opt for a CWL size of either 15 or 30 members, for leagues Bronze 3 up through Master 1.
The other main change is that rewards (medals) are given based on the number of stars you collect over the course of the CWL event. Players will need to earn 8 stars over the entire week to get 100% of the eligible medals based on your clan's results. Clan members only watching can still receive the win bonus medals as before.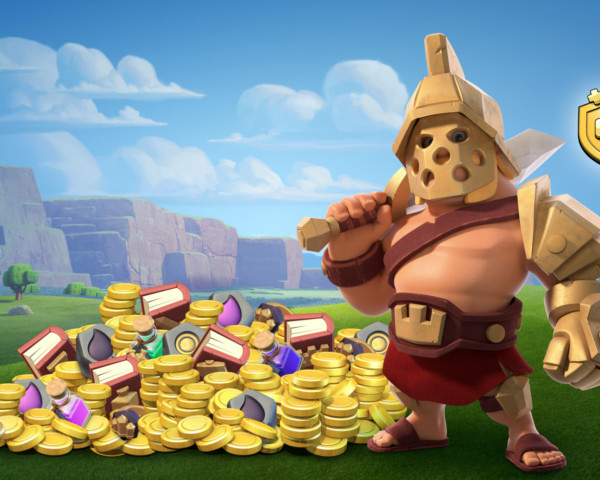 New Monthly Challenges
Love Clan Games? Then you are in for a treat. Introducing a month long, single-player quest of challenges. Players will be presented with daily challenges and monthly challenges that continue to appear as the month progresses. Each new season starts on the 1st of each month and ends on the last day.
As players complete challenges they collect points which are then used for unlocking rewards that are listed on the quest road map. Plus, at the end of each month, players can collect massive amounts of resources from the new Season Bank, which collects automatically as players attacking normally throughout the month.
Clashers can spend $4.99 each month to unlock a Gold Tier in the new challenge game mode, giving them access to additional rewards, higher bonuses, and an exclusive monthly Hero skin, changing the look for their Heroes.
Faster & Cheaper Armies and Upgrades

Nearly across the entire game building upgrade times have been reduced. Additionally, most defenses, resource buildings, and army buildings have been given cost reductions ranging from 6% to 50%.
The research time for most troops has been reduced, freeing up your lab and getting clashers closer to max level armies faster.
The research cost for Witches level 2 and 3, and Bowler level 2 have all been dropped for 40,000 dark elixir each.
New Levels
Prepare for the coming point defense vs. mass army battles, with new defense and troop levels being introduced to Town Hall 12.
Level 17 Archer Tower (costs 12 million gold)
Level 17 Cannon (costs 12 million gold)
Level 5 Witch (costs 200k dark elixir to research, can now summon 14 skeleton units)
Level 9 Hog Rider (costs 240k dark elixir, damage per second goes up to 161)
Level 5 Ice Golem (costs 200k dark elixir, offensive freeze area upon death has been increased, while defensive area remains the same, but lasts for a shorter time)
The Tornado Trap's time has been slightly reduced.
Wall Breakers will have more hit points at levels 5-8, and their bombs get stronger at level 7 & 8.
The Giant Cannon no longer delivers massive damage to the Builder Hero, making him more useful at attacks the core of a base.
The Battle Machine's time to regenerate has been dropped to be the same time it takes to train a new army.
Quality of Life Improvements
For top tier players stuck in the clouds throughout most of the gaming days, embrace the darkness. The screen can now be toggled to 'dark mode' to eliminate the brightness.
Tired of an inactive leader or someone donating the wrong troops into war castles? Now the leader role will move from a leader who is inactive for 90 days to the co-leader who has been in the clan the longest. Additionally, the leader and co-leaders will be able to remove and replace troops in Clan War Castles.
The Builder Menu at the top of your screen now gives a full list of what you have left to upgrade.
An annoying part of logging in after being attacked was having to reset all the traps. Repetitive and needless. Now the game automatically resets your traps and defenses, if you have the resources.
One of the biggest surprises was the omission of Builder Hall 9. Level 8 has been active in the game for over a year now, leaving a lot of based maxed out. Expect that to be the next game update later this spring.
Until next time, Clash on!
To receive updates on new versions releases and stay connected with other members of Clashfarmer community,
Join our FORUM