Clash of Clans June 2019 Update – Builder Base 9, New Hero & Spell Levels, and the Clouds are gone!
Goodbye Clouds, Hello New Legends League
After what seems like an eternity the clouds are finally gone. Players now in Legends League (5,000 trophies and above) are given 8 attacks and have 8 defenses each 24-hour period. Players still must train their armies and let Heroes heal, but the targeted bases are loaded immediately.  Every battle is worth 40 trophies, with the number of trophies given based on the number of stars and overall destruction percentage. A two-star 55% attack will be more valuable than a one-star 90% attack, so aim for the Town Halls.  Players are matched against other clashers in their trophy range.
Even better news, you cannot lose resources on your defenses, like how the Builder Base is setup. Between the default look system, bonus loot per attack and daily star bonus a player has the potential to each up to 7 million gold, 8 million elixir and 75k dark elixir each day.
If you want to opt out of the Legends League play, you must drop your trophies below 4,900.
Main Base Updates
Town Hall 12, and even 11, players see a significant number of additions to the game which should keep max players busy for a few months and push more players to aim for Town Hall 12 and Legends League. Overall, these changes heavily favor the attack. Here's a look at all the update pieces arriving to the main base:
Heroes – The Barbarian King and Archer Queen gain five new levels, taking them to a max of 65! While the Grand Warden can now be upgraded to level 40, where his Eternal Tomb ability will last a full 7 seconds!
Golem – The only troop to see a new level in this upgrade is the Golem, adding a 9th
Spells – New levels for Rage, Poison, Skeleton, Earthquake and Haste are now available.
Earthquake Spells – Before no matter what level of earthquake spell you used, four of them would take down and level of wall. Now, the level increases the range of destruction. A level 1 earthquake spell does 14% damage over 3.5 tiles. Whereas a level 5 earthquake spell (max) does 29% damage and impacts a 4.7 tile radius.
Skeleton Spells – A very underused spell in the game, the skeletons are adding an extra layer to their game – literally. Skeletons now spawn with an armored shield which must be taken down before the skeleton can be attacked by a defense. However, the number of skeletons that spawn for each level of the spell has been slightly reduced.
Wizard Tower DPS – Reduced at levels 8 and 9.
Mortar – A new level 12 mortar is being added to Town Hall 12. While level 11 mortars will now take 12 days to upgrade rather than 14.
Battle Blimp – Increased hit points by 500 points at each level.
Healer Impact – The Healers splash ability will now only cover a 1.5 tile range rather than the previous 2 tiles, which limits the number of bowlers or witches she can keep alive.
Full Walls – Players can now upgrade all 300 wall pieces to level 13.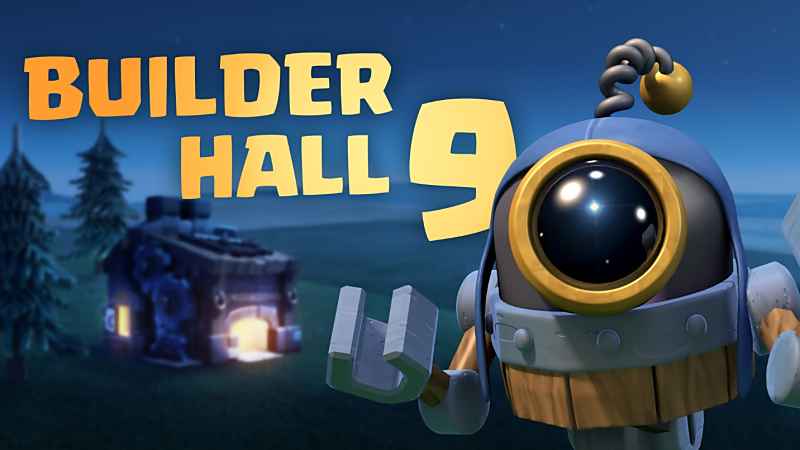 Builder Hall 9
It's been a long time since Builder Base players had new content, so the next Hall level was not a big surprise. As always as new Builder Hall level adds an additional level to each building and wall, while adding two levels to the troops. But there are three brand new elements that will bring a great dynamic to attacking, defending, and even building!
Hog Glider – The new troop sees the Rider and the Hog gliding over enemy walls straight at defenses. Upon impact the targeted defense is stunned. Mass Hog Gliders are an unlikely army, but instead this troop will be ideal for stunning key defenses for the rest of your army. For example, if you are using an all air attack, the Glider when timed right could keep the Air Bombs stunned. There are 18 levels for the Hog Glider and at max level will generate a 7 second stun.
Lava Launcher – The latest, and deadliest, defense from the mind of the Master Builder. A mix between the Mortar, an Inferno Tower, and the Eagle. The Lava Launcher hurls molten rock at attackers in a wide radius, like the Eagle, but has a dead zone closer to the defense. Where the rock lands setting the ground a blaze and continues to impact any troop that walks over that area for the duration of the battle. This defense is great against Boxer Giant and Cannon Cart attacks all pushing in from one side of the base.
T.T.O Hut – Ever wanted a second Builder Base builder? Or how about a 6th builder for your Home Village? Meet Otto. Once players reach max levels for the Cannon Cart, Mega Tesla, and the Battle Machine they can unlock Otto who can begin working on your Builder Base. Once unlocked if you prefer, you can send the Master Builder to your Home Village and create a 6th builder hut to add an extra builder towards your journey to max Town Hall 12.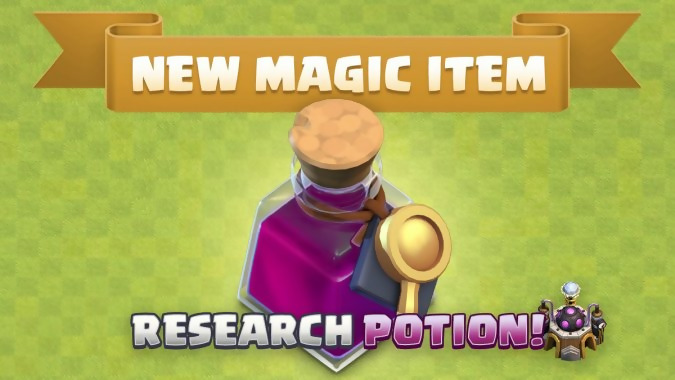 There are plenty other additional items hidden away in this massive summer update. Here are a few of the notable items clashers can look forward to testing out in the weeks and months ahead.
New Research Potion – The latest magic item. This potion will boost the productivity of your Research Lab by 10x for an entire hour.
Magic Hammer Cool Down – This won't be a popular one, but it's understandable that the dev team doesn't want people skipping to the end too quickly with free giveaways. There will now be a 7-day cool down process between when you can buy the same Magical Hammer. So no more quickly stocking up on those Hero Hammers.
Builder Base Walls – The costs for walls from level 6 to level 8 using Wall Rings will all be reduced to 3, 4, and 6 rings respectively.
To receive updates on new versions releases and stay connected with other members of Clashfarmer community,
Join our FORUM