Clash of Clans Spring Update – First Sneak Peaks
For the past few months Clash of Clans players have been eagerly awaiting the next big update. Since the 2016 holiday season the game has delivered a series of troop, spell, and gem boosts or challenges to keep players engaged and happy. However, the anticipation continues to build and it looks like the spring update is just weeks if not days away.
The Boat Arrives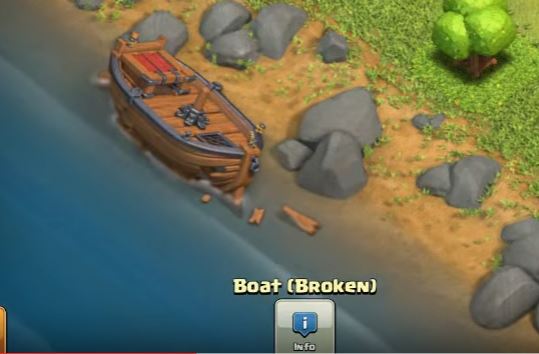 The speculation of the boat started well over a month ago, when a few big YouTubers, including Clash with Ash, kept hinting of the arrival of a boat in the game. Since that time several images have appeared online with a boat hidden in the background. However, speculation can be put aside, as of Wednesday the boat was in game (as seen in the picture above).
Right now the boat is shown as broken, and will likely need a gold upgrade to repair it, similar to the castle when first starting out in the game. The info button takes players to a short video the team created with the Barbarian, Wizard and Hog Rider trying to figure out how to cross the water. Check it out here.
Clearly, the function of the home base is about to change forever, now with a new way to travel away from it. But where are you traveling to? Speculation has a few options in mind:
1) Another Account
By now a lot of players have more than one account and it is difficult to have to switch between the two, especially on iOS devices. Could the boat let players easily switch back and forth between accounts? Possibly. While that would be helpful, it doesn't seem like that would be the only reason to reveal the boat and with this much hype around it, the answer it likely something more.
2) A Second Base
Another theory has it that there will be a smaller second base off-shore, or perhaps a sea base, that players will be able to upgrade and use during battles. The possibilities of that would be endless, and be something for smaller Town Halls, but also opens us a lot of in-game mechanic issues.
3) A Clan Base
A central place where the entire team is building up a super base, collecting group resources to unlock perks, or be able to have multiple people attack a larger base.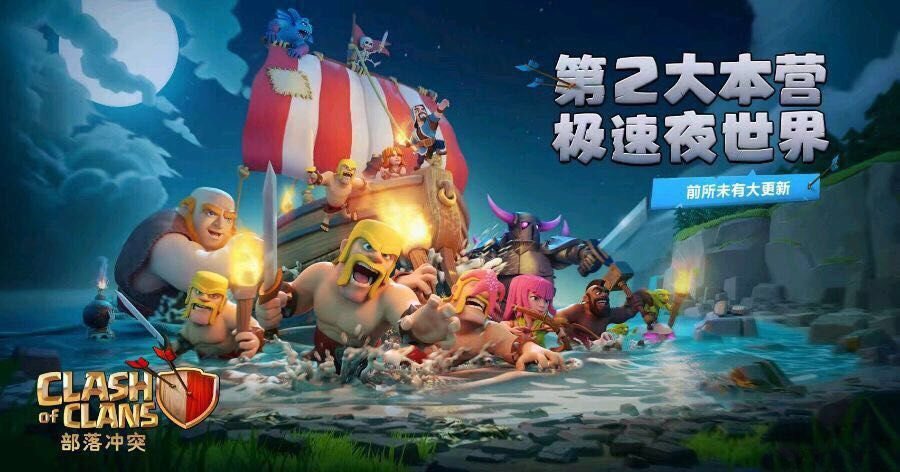 The image above was leaked recently and looks valid. The picture shows troops arriving on a boat, but at night and attacking. The translation of the text indicates a 2nd war camp, or mini base. While the moon is out, the dev team years ago said that they would never implement a night mode in the game. Perhaps they have changed their minds, or simply liked this graphic better.
The update is expected to be delivered sometime during May, which means more official sneak peaks should be any day now. With as much hype as this update now has, the sneak peaks could linger on for up to two weeks.
Several of the YouTube personalities that have been closely related to the game have stated that they have played a version of the upcoming update. They all seem really pleased with the changes and like SuperCell indicate it is a major shift in game-play.
The boat is a cool graphical addition right now, and a night mode would be visually interesting. A way to switch between accounts easily would be a quality of life improvement, but none of these are the main element in the forthcoming update.
It should not be a stretch to expect a major shift in game-play, the likes of which hasn't been seen since the introduction of Clan Wars. Stay tuned for more updates once the sneak peaks begin to roll out, and start saving up those resources, chances are you'll have something exciting to spend them on very soon.
To receive updates on new versions releases and stay connected with other members of Clashfarmer community,
Join our FORUM