CLASH OF CLANS – ALL CLASHMAS SURPRISES: HOG RIDER EVENT, SANTA'S SURPRISE SPELL, ICE WIZARD & 1-GEM ARMY BOOST [updated 30.12.2016]
Hog Rider Event, Where To Next?
This past week the Clash of Clans community was given the first ever in-game event. Typically reserved for Supercell's YouTube events, players were able to partake in the fun. The Hog Rider Event made hogs extremely cheap to make and challenged players to win three attacks using at least a set number of hogs.
For example, at Town Hall 11, Hog Riders level 6 were only 9 dark elixir, and the challenge required 10 hogs in each attack. Overall, the event was simple and easy. It is hard to imagine there are many players Town Hall 7 and above that have not already tried and mastered the Hog Rider. But it shouldn't be lost the potential this brings to the game. While the challenge, and gem bonus, were a fun addition, it opens a wide variety of quick events the developers can create.
The next most likely scenarios would be variations of this first event. Taking troops that may be less used across the entire game population and challenge players to win battles with them. To be able to include Town Halls as low as 7, the Minion and Balloons would be interesting choices. However, long term we could see timed based challenges, unique weekly/monthly bases that must be defeated, or attacks using only one type of unit. 2017 should bring several new elements to the game for Clashers.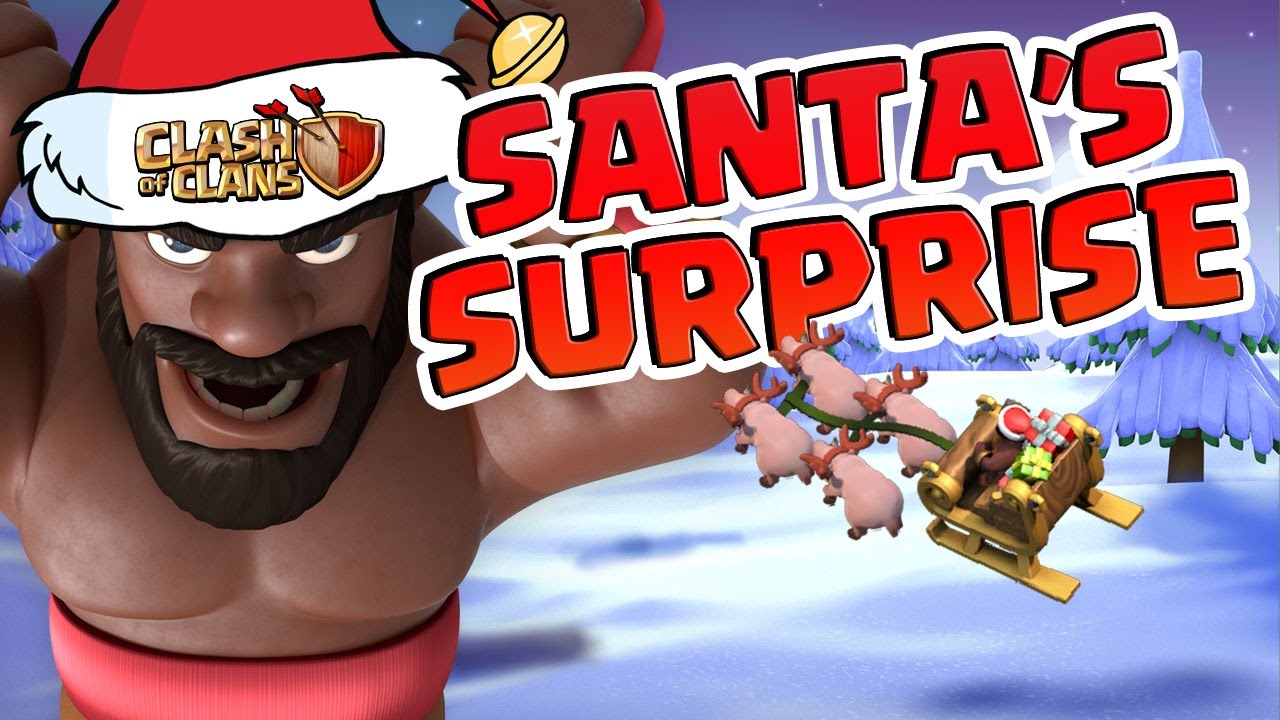 Santa's Surprise Spell – Best Use & History
Four years after its initial release the Santa's Surprise spell made a return to the Clash of Clans world. In 2012 the Santa's spell was massively overpowered. With just a few players could wipe out several air defenses or the entire Clan Castle. In fact, the spell is the main reason that the Clan Castle now has so many hit-points.
The new version of the spell was brought back for the Winter 2016 season, and will remain in the game until early January. This version of Santa's Surprise switches away from Santa being pulled by reindeer to the Hog Rider being pulled by four hogs in a flying sled.
Where you select to drop the spell sends splash area damage to that region, but in a very erratic fashion. Sometimes it will inflict the most damage on the central target, while other times an outside target. Due to this reason you have to factor in that variance could disrupt an air attack.
If luck favors you two Santa's Surprise spells and one Earthquake spell will take out an air defense. However, you could easily see your spells completely used and the wrong buildings taken down. The lightning and earthquake combination is still the best strategy when attacking in wars. But while it is here for just a few weeks enjoy the variation in spells and take a gamble with Santa.
Side note: If you attack someone in a regular raid with the new spell it will leave presents on the opponent's base that once removed deliver gold.
Update from December 30th 2016:
While you could argue that Clash of Clans has had more impactful updates, the 2016 winter update is probably the most active. Around two weeks of special events, in-game boosts, and limited time spells and troops. Hopefully you've had a wonderful Clashmas. Your hog rider skills are sharp after the challenge event, your upgrades have increased with the 1-gem special that ran for a full week, and you had some fun with the Santa's Surprise spell. Now for the final to gifts from Clashmas.
Introducing the Ice Wizard…to Clash to Clans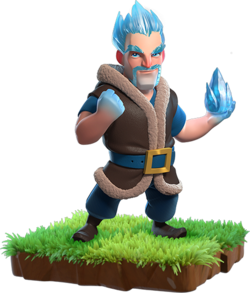 The third and final secret gift from the Clashmas boxes brought over a legendary character from Clash Royale. The Ice Wizard costs only 1,500 elixir, has 200 hit points and 200 damage. Which places him on level with the max level Wizard, but at only a third of the cost. He is available for Town Halls 7 through 11 and has only one level, the same for everyone.
While only here for a number of days, the Ice Wizard also brings the second challenge event. To unlock 300 xp and 30 gems each player needs to win three raids using at least 12 Ice Wizards. He targets defenses first with an attack that not only inflicts damage, but also freezes the defense for a moment.
The Ice Wizard works well with just about any ground army combination. Mix him in with the regular Wizard behind Giants and wall-breakers to move right through a base. Unfortunately, you cannot donate the Ice Wizard, but perhaps that is because most players have him at the same level.
The Ice Wizard is sure to be a hit over the next week and expect requests for a permanent inclusion in the game in the near future.
1-gem Army Boost Special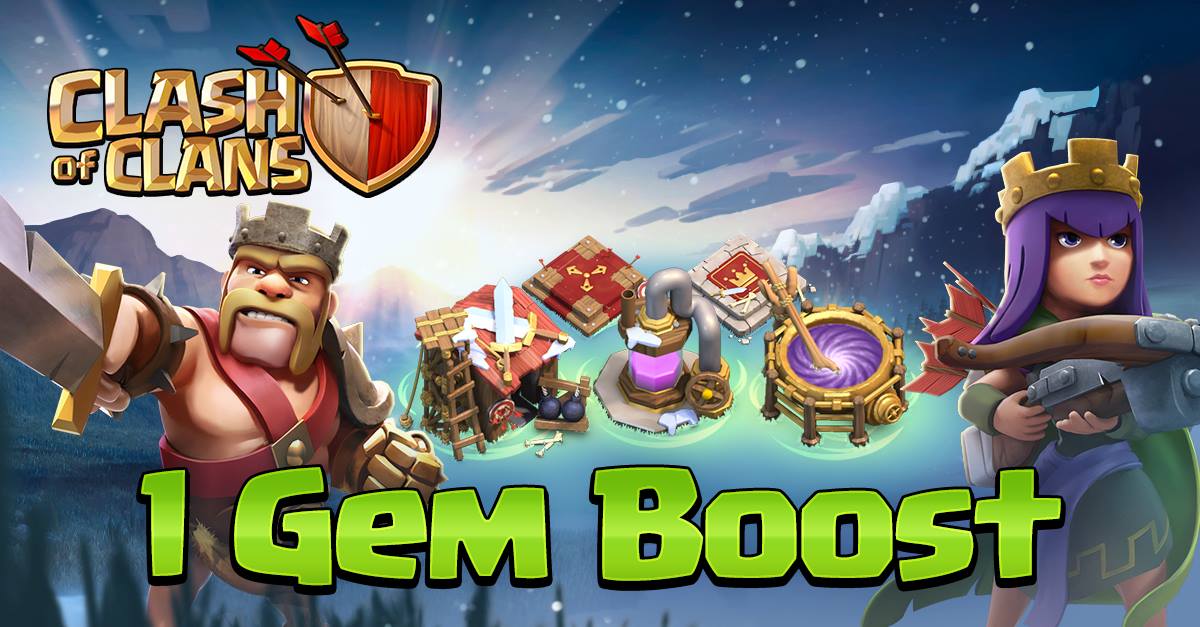 The final piece of the Clashmas special is another gem boost. After a week of boosted mines and pumps, all players should have plenty of resources and builders busy upgrade the base. Now it is time to attack, and quickly.
For only 1 gem each, players can boost their barracks, spell factories and heroes for one hour. Depending on your camp size and hero level you can turn around new armies in as little as five minutes, or even 20 minutes if you have max heroes.
The best way to utilize this feature is to start a boost session when you have an hour in which you can focus on the game. Then build double armies, thanks to the previous update, and raid non-stop for the hour. There isn't a need to focus on cheap army compositions as every troop will be made quickly, and you will be taking higher loot than normal by attacking so many times.
You will be able to train war armies and donations faster as well. Enjoy the next week of quick raids and Ice Wizard attacks. It has been a great Clashmas and hopefully that points to an even better 2017 for Clash of Clans.
To receive updates on new versions releases and stay connected with other members of Clashfarmer community,
Join our FORUM